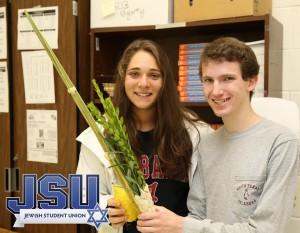 Just as the High Holidays begin to fade away into our memories, we get blessed by the coming of Sukkot, one of the happiest holidays on the Jewish calendar. Over 800 Jewish Student Union of Atlanta (JSU) teens at 13 Atlanta-area high schools got into the spirit of Sukkot recently by taking part in hands-on educational sessions where they learned about the meaning behind Sukkot's customs and observances. The building of sukkahs as well as the shaking of the 4 species (lulav, etrog, hadas, arava) were among the topics discussed.
Each of the club events was led by Rabbi Chaim Neiditch, who added a passionate sense of importance and significance to the proceedings, as he guided the teens through the Biblical sources underlying each of the Sukkot rituals. The events were further sweetened by the hands-on activities whereby participants created gingerbread sukkahs and decorated them with all manner of treats and goodies like M&Ms, jelly beans, marshmallow fluff, licorice, and other colorful candies.

For many of the teens, the JSU Sukkot activities represented their first exposure to and observance of the holiday.